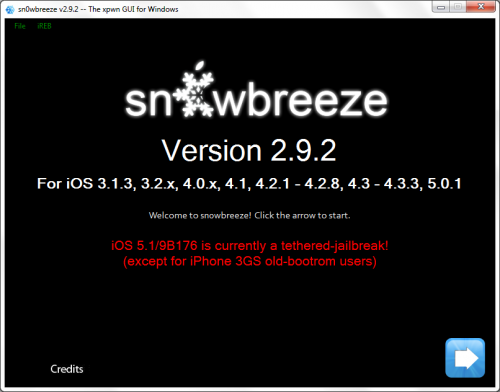 iH8sn0w has released new version of popular jailbreak utility Sn0wBreeze 2.9.2. Sn0wbreeze is used to create a custom firmware with jailbreak and preserve iPhone modem (baseband) version for unlock. New version 2.9 adds support for untethered iOS 5.0.1 jailbreak as well as support for all firmwares supported by previous versions of sn0wbreeze.
Version 2.9.2 features tethered iOS 5.1 jailbreak for iPhone 3GS, iPhone 4, iPad 1, iPod Touch 2G, iPod Touch 3G and iPod Touch 4G.
You can download Sn0wBreeze 2.9.2 here.
Unlockers should update only via custom firmware. Ultrasn0w for iOS 5.1 with old basebands will be released soon.